PREVIOUS
NEXT
McBIRNEY RESIDENCE A mountain home overlooking the Pend Oreille River in Northern Idaho. Southern exposures, mountain views, and the owners' desires helped shape its spaces. Construction includes Rastra recycled foam walls, structural insulated roof panels, reused wood timbers, and a durable stucco exterior. Gable porches and large overhangs protect the house from this region's demanding climate. This residence is featured in the January 2006 issue of Fine Home Building.
SMALL HOUSES

LARGER HOUSES

MULTI FAMILY

NON RESIDENTIAL

ALLEY FRIENDS ARCHITECTS

ARCHIVE

IN PROGRESS


The 2500 sq ft, 1.5 story residence consists of 3 bedrooms, 2.5 baths, home office, and loft.
The interior is finished with tinted gypsum plaster and natural, healthy finishes. Southern windows fill open gable interiors with light, while interior windows and loft connect spaces and ventilate summer heat. A covered porch provides shade from western sun.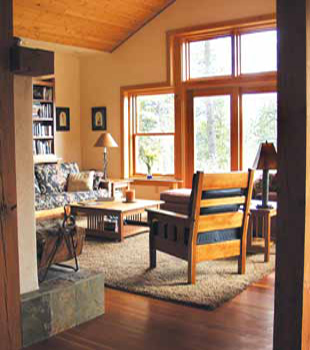 For more information including an article in Fine Homebuilding Magazine see the News section.
"...Karlen and I wanted to design a home together, much more keeping with the area and our simple life style... we spent a better part of the year following principles hardly typical in a high-end home. Among them:

Extremely rugged construction
Small, connected, multi-use spaces
A house that could adapt to a changing family
A separation of the house and the car
De-emphasis of bathing facilities
A house that wears in, not wears out."


Martin McBirney