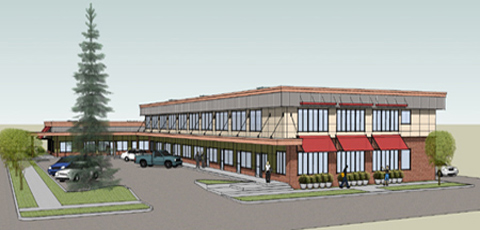 Renovation Rendering - South view

Existing Buildings - Southwest view
The existing buildings were disconnected without elevator access to the upper floor, did not visually connect to the sidewalks, had deteriorated mechanical, electrical and finish systems, and presented a dated image to the community.
Renovation Concepts
1. Move the second floor entry from the south side to allow greater connection to the street and bring more sun into the southern units.

2. Connect the 2 buildings with a covered walkway, providing protected entrances to the complex from both sidewalks (see Green Area of Site Plan above).

3. Connect building with new lobby and entrance to the second floor.

4. Lower energy costs and utilize healthy and durable finishes.

Southwest View of Renovation